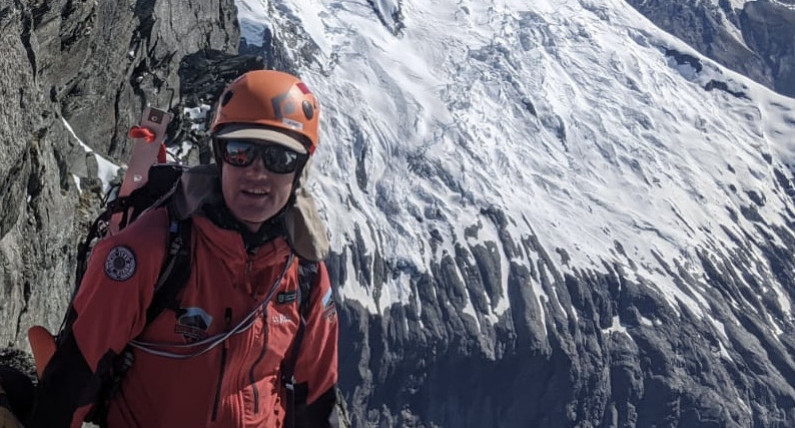 10 questions with.. Jonathan Gillan
Jonathan is no stranger to the mountains, having enjoyed a broad professional career as a mountain guide, avalanche forecaster and professional SAR team member in New Zealand and Australia.
You're one of the two New Zealand representatives to the international knowledge base for Best Practice in Mountain Safety (MountainSafety.info) How did your career lead you to that role?
I began my professional journey with the Ski Patrol course at Tai Poutini Polytech and ended up doing 15 seasons of patrolling. At the same time, I was working through the International Federation of Mountain Guides Associations (IFMGA) pathway to become a professional guide. That career progressed to specialise in the avalanche industry, as a forecaster, educator and training assessor. I spent some time with DOC's Aoraki/Mount Cook Alpine Rescue Team (AMCART), so I had a good breadth of experience across the sector which I could draw on for the role. Pete Zimmer from LandSAR is my co-representative from New Zealand.
What professional SAR work did you do in Australia?
I worked at Cobham Aviation Services as a dropmaster on their Challenger 604 SAR aircraft. Working on behalf of the Australian Maritime Safety Agency (AMSA), missions stretched from deploying rafts on long range off-shore rescues to searches deep in the desert interior. My interest was really in the task leadership aspect. I was promoted to the position of Aircraft Mission Coordinator, leading a crew who used advanced radar, direction finding equipment and visual anomaly detection software to achieve our mission.
What other profession would you have loved to have a go at?
I'd have loved to have been a pilot, it's something I have always seriously considered and it's been difficult to leave this ambition in the background.
What brought you back to Aotearoa?
After two years on the Challenger, I got an invitation to join AMCART. It was an opportunity I couldn't refuse, so the family and I moved to Mount Cook Village.
What are your roles within the SAR sector these days?
For family reasons, I've moved on to Queenstown, but I remain involved in ongoing training delivery for AMCART, and for the volunteers at Wakatipu LandSAR.
Alongside other experts, we have recently [June 2022] updated the New Zealand Avalanche SAR Readiness guidelines. The document provides a framework for organisations and operators to fulfil their requirements when creating avalanche response plans.
What are the main changes to the avalanche readiness guideline since the last version in 2014?
It has been updated to reflect the evolving nature of decision-making tools and algorithms available for use in avalanche rescue. Also, incorporating a modernised approach to all aspects of communications, and the challenges this presents in an avalanche response.
What technological changes have occurred in the field of avalanche rescue?
Electronic technology has advanced rapidly in two main areas: communications and rescue devices. Digital avalanche beacons overtook analog devices, but recently, transceiver design has come full circle. Now we are seeing more dual analogue/digital devices with advanced software that enhances the advantages and reduces the disadvan tages of either technology.
New Zealand is starting to deploy specialised helicopter mounted avalanche transceivers, with in-cockpit display and vastly superior sensitivity. We have two HAS457 devices, on helicopters based in Wanaka and Mount Cook.
Have the techniques changed along with the technological advances?
Absolutely. These new tools and capabilities improve how we integrate a larger avalanche response, leading to higher search efficiency.
How is New Zealand keeping up with international developments?
Pete Zimmer and I have been working with our collaborators at MountainSafety.info to ensure we help shape the techniques with Kiwi experience, but also to bring home the best learning from overseas.
As an avalanche professional, can you tell us about your most memorable avalanche response?
Like any memorable job, the conditions were horrendous; 100 km/h winds, with lots of new snow and very high avalanche risk. The Rescue Coordination Centre informed AMCART of a distress beacon activa tion in the Gamack Range, and we deployed immediately, expecting an avalanche burial. The wind was so bad we couldn't land near the site, so we had to deploy from below on skis. We found the skier then had to drag him, complete with broken femur, through the blizzard to a nearby hut. We were fully expecting to stay the night, but fortunately the Squirrel helicopter was able to crawl up the valley and extract the injured skier.
This article was first published in Link Magazine, Issue 59, June 2022
Back to News