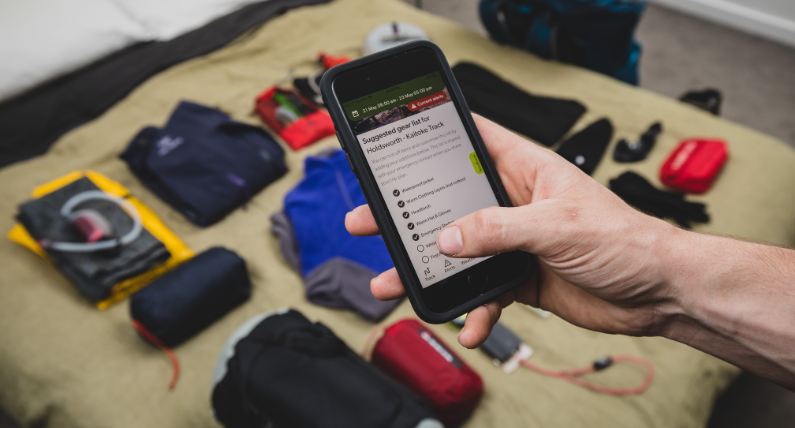 Find them using their apps
Recently, there has been an explosion in app-based tracking and planning tools for outdoor adventures. When someone is missing, there is a variety of data which Incident Management Teams may be able to access, which could provide vital clues.
The app user can make the data publicly available, or only visible to certain people. Before you are able to interview next of kin, you could look for tracking app activity on the lost person's social media account, or make a long-shot search in popular apps for their profile.
An interview might reveal which apps the person uses. More commonly, next of kin will be able to connect you with the person's usual outdoor companions, who are more likely to know which apps or online tools the person uses.
Here are some potential research options for IMTs, with app examples for each. This is far from an exhaustive list, but a prompt and starting point for intelligence gathering.
Real-time tracking
Satellite Emergency Notification Devices (SEND) can be configured to publicly display tracking and message geo-data on a web page. The popular Garmin InReach calls this function Mapshare, and the public web page is www.share.garmin.com/usernamehere
Many phone or smartwatch apps have a real-time tracking function, but visibility is usually restricted to pre-authorised people, and are limited to locations of cellular data coverage.
Some apps (such as Cairn) record a user's progress over time, and update selected contacts whenever a patch of reception is found. So there may be partial records of previous locations available. Likewise the person's pace over terrain could be calculated, allowing for refined estimation of the size of the search area.
Pattern of activity
The next of kin might say something like "they just went for their usual run" or "they were hunting their favourite spot". Most apps have a function to record previous trips, which can give detailed information on favourite or frequent routes. Such patterns could provide probable search locations if no intentions had been left at all.
For example in the Strava app, any person that follows an user can see very detailed GPS track information for each activity recorded. There is also an option for the user to upload their specific shoe type to their public profile, which might be useful for field tracking purposes.
Deliberate planning and intentions information
Some apps include functionality to plan an activity, and send that plan to a trusted contact. NZ Mountain Safety Council's PlanMyWalk is an example of this type of app. There is also the Outdoor Intentions Form on the AdventureSmart website.
You'd expect that trusted contact would offer the information during an interview, but a specific prompt could jog the memory of a distressed relative: "Did they use any apps or websites which record their track or their plan?"
Asking about apps has a potentially high effort to reward ratio
A few careful questions can tell you where to look for relevant online/app based information, which is quick to review and may provide helpful real-time location, intentions or historic data.
Back to News