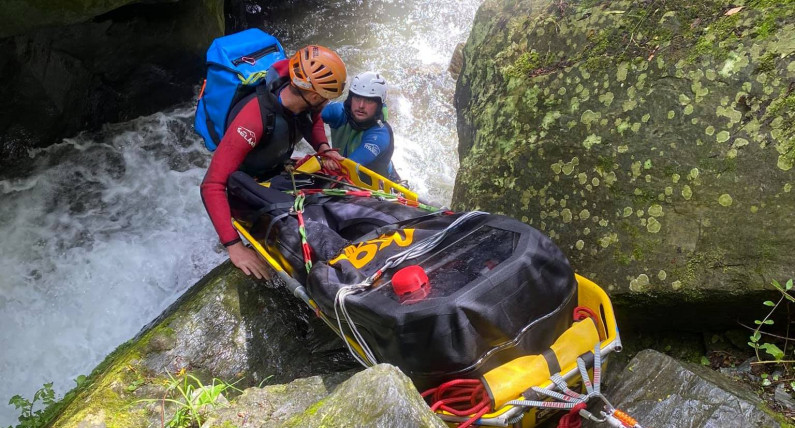 Emerging capabilities - Canyon SAR
The specialist skills and equipment of a Canyon SAR team can be invaluable whenever the search area includes waterways that are steep, gorged, or both.
Valleys tend to provide a natural corridor for trampers, which encourage a moving person towards their lowest point. There, a creek which initially offers the path of least resistance, can lead into a subtle trap. Even a minor gorge can act like nature's funnel; many ways in, but downstream is the only way out. And when the terrain is steep enough to produce waterfalls, downstream is no longer an option, and they're stuck.
Canyons are hazardous environments, with cold water, strong currents, rapids, slippery rocks and exposure to heights. Often, there is limited room to operate; the more enclosed canyons can be only a few metres wide with vertical walls 50 to 100 metres high. These are places where teams are committed until they reach the main valley floor, places where only canyoning techniques and equipment will allow progress, and extraction by helicopter or vertical ropes from above is next to impossible.
Canyon SAR fills a capability gap, allowing effective search and rescue operations through these hazardous waterway environments where other capabilities would be too slow or unable to operate.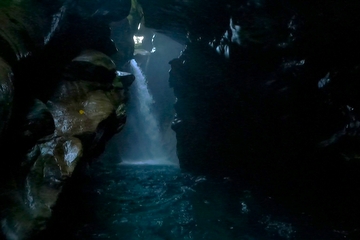 Deep in Giant Gate Gorge - Roy Bailey, Wanaka Swiftwater Team
With the launch of the first guidebook to Canyoning in New Zealand in 2015 and the kiwicanyons.org website, the sport exploded in pop ularity. At the 2019 LandSAR AGM, the NZ Canyoning Association became an associate member and Canyon SAR became a 'specialist discipline' allowing funding for courses. Today, Canyon SAR capability is shared between seven regions across the country.
Incident Management Teams can contact Canyon SAR teams via nzcanyoningassociation.org/rescue and the NZSAR resources database, nzsar-resources.org.nz. Teams can often provide advice about the nature of the waterways in a search area, and whether Canyon SAR teams could add value to an operation. Canyon SAR teams deploy wearing specialised wetsuits or dry suits, with harnesses and technical rope equipment. Depending on the situation, they will select rescue gear such as stretchers and patient management kits, and search gear such as snorkels, dive masks, avalanche probes and GoPro cameras on telescopic sticks. Some are helicopter-strop trained and all have the background and technical skill to quickly learn helicopter stop procedures prior to deployment.
Early Canyon SAR exercises trialled standard stretchers equipped with floats, but patients sank in turbulent pools and quickly became very cold. These trails made them look for a better solution, which was the KONG 911 Water Rescue Stretcher. There are currently four throughout the country, in Wanaka, Christchurch, Nelson and north ern Waikato. Each is rated for vertical rescue, with an integrated person-sized dry-bag that allows it to float in aerated water when fully loaded, and keep a patient warm in a cold, wet environment. Teams are trained to move these stretchers through minor rapids, down and up canyon rock faces using dual 10mm rope systems. The stretcher even contains a snorkel and face shield, allowing the stretcher to be lowered right through a waterfall if necessary.
Kong 911 Canyon Rescue Stretcher in action, Supplied NZ Canyoning Association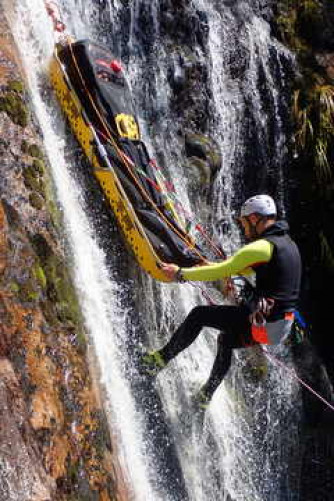 In a hasty search task, canyon teams are trained to look for clues where the missing person may have entered or left the waterway, or even track footprints on sandy bottom pools with a dive mask and snorkel. When conducting a deliberate clearance task, they are able to search turbulent pools, crevices and undercuts, using tools such as avalanche probes and Go-Pro's on long selfie sticks.

These techniques were successfully employed to find the remains of missing trampers in several recent searches; February 2020 in Pyke Creek, Haast Pass, and April 2022 in Giant Gate gorge, Milford Sound. In each search, the deceased person was hidden underwater, and only detected using those specific tools and techniques.
Like most SAR operations, it is the collaboration and coordination of all the individuals and organisations that contribute to the result. In Giant Gate gorge, after a huge effort by everyone involved in the search, the Police National Dive Squad was deployed to recover the deceased person. The walls of the canyon were over 100m high, and although the helicopter was just able to strop equipment to the site, the officers had to be provided canyoning equipment and guided by the canyon team from the start of the gorge to the site.
"It was a very difficult environment.The canyoners from the Wanaka Swiftwater rescue team showed their value to get us efficiently and safely to where we needed to be. There was no other way that we could have gotten there," says Senior Sergeant Bruce Adams, head of the Police National Dive Squad.
Accessing a canyon often involves travel through steep bush terrain, sometimes even needing abseils to reach the canyon floor. Canyon teams are at home in steep bush environments which border the waterways, and could be used to complement searches where it is too steep for bush teams to safely operate.
In an extended search, there are examples where canyon teams have found the missing person where other methods had not suc ceeded; such as in the March 2021 search for a woman in the alpine valleys of Arthur's Pass and the March 2022 search for a male in the coastal bush near Kaikoura. Although these examples ended in a recovery, Canyon SAR teams have been able to complement other SAR assets in the initial stages of an operation, finding missing people and stabilising or transporting them through a harsh environment so they can be extracted.
Although the capability is still developing, there is a growing history of useful contributions to SAR operations, which will certainly increase as the local relationships mature and more of the sector understand what Canyon SAR can offer.
nzsar-resources.org.nz
The NZSAR Resources Database helps Incident Management Teams across New Zealand find the right SAR resources for whatever job needs doing. To gain access, contact rccnz@maritimenz.govt.nz
And for training, search "NZ SAR Resource Database" on the NZSAR website: nzsar.govt.nz
This article was first published in Link Magazine, Issue 59, June 2022
Feature image: Canyon SAR training in Queenstown/ Shanan Fraser
Back to News