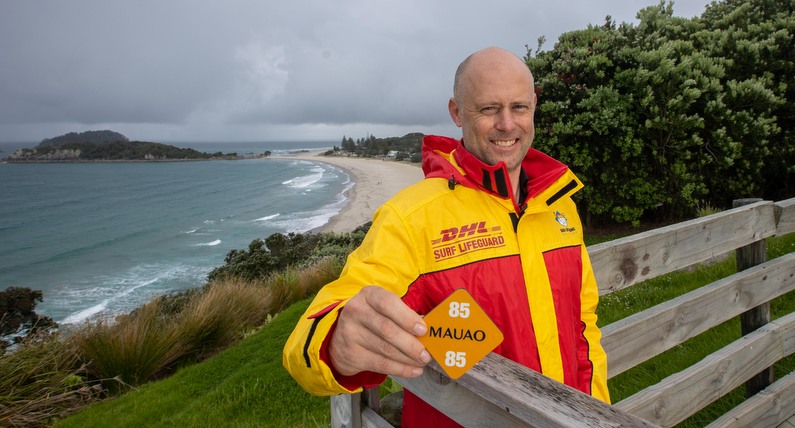 Markers on Mauao
A new rescue marker system allows the local surf club and other SAR agencies to respond faster and more efficiently to incidents at 'The Mount'.
Directly adjacent to one of the Bay of Plenty's most popular beaches, is one of its most popular day-walking destinations. When the sun is out, the slopes and summit of Mauao / Mt Maunganui are busy, with visitors enjoying the many track options.
Located at the start of the main track, the Mount Maunganui Lifeguard Service has been responding to incidents on Mauao for 40 years. This prox imity, and the fact that lifeguards are often patrolling the beaches in season, makes them the natural first responders for search and rescue operations there.
John Svendsen is the training coordinator for the Western Bay of Plenty Surf Life Saving SAR squad. "For years our club has been assisting people with rolled or broken ankles, dehydration or cardiac problems," says John.
The tracks on Mauao are well marked and named in te reo Māori, but often visitors calling for help struggled to correctly pronounce them, even if they were able to correctly identify which track they were on.
"Even though Mauao is a relatively small place, we usually received poor or confusing information about the location of the injured person, which resulted in delays to them being rescued," John explains. "The lifeguards knew the tracks like the back of their hand, so used local knowledge to narrow down the search areas, but everyone knew the situation was far from ideal."
John came to the Surf SAR squad about 18 months ago, and drove a project to create a rescue marker system. The idea wasn't new, but it hadn't ever had enough momentum to be brought to reality. "Our first step was to present to iwi and local council, to explain the urgency to introduce the system. The proposal was very well received, and we worked with iwi on suitable types and quantities of markers on the tracks."
A total of 75 markers were strategically placed, on existing signs or other man-made structures. Each was reflective and large enough to be seen when needed, but not so large that they were obtrusive.
There is a 4WD track leading directly to the summit, and the sea-level base track is accessible by a 'mini All-Terrain-Vehicle'. For incidents on the foot tracks, pre-plans detail the most suitable vehi-cle locations for patient transfers, as well as sections of track which require support from other agencies or capabilities. Helicopters are sometimes required, as when a gentleman in his 80's fell over a sig-nificant bank, needing winch extraction.
"Markers 42 to 47 and 61 to 63 are sections with steep steps, and we know we require LandSAR teams to assist in a stretcher carry from there," says John. The system means any extra assets required can be confidently activated earlier, improving response times and providing better outcomes for those in distress.
John recalls a recent response, which involved LandSAR, Fire Emergency NZ, St John and Surf. "The caller said someone had a broken ankle near marker 61. When our teams got there, no one was to be found, and as it was getting dark, LandSAR teams assisted us in making a full sweep of Mauao's track network. It turns out the patient had decided to hobble his way down, but no one told the authorities!" These collaborations have been very positive according to John, with more combined training activities in the pipeline for the future.
A key part of the system has been getting the emergency comms centres on board. "Craig Madden from Police and Mat Delaney from Hato Hone St John helped us develop the procedures and follow the right process to get them approved and used by the authorities," says John. When receiving a 111 call from someone who says they are on Mauao / Mt Maunganui, an automatic procedure is triggered, with specific questions asked by the operator. They instruct the caller on how to find the nearest rescue marker, and pass that information to the Police SAR coordinator, regardless of which agency takes the initial call. From there, police contact surf comms, who then pass the message to the local lifeguards. The system was first in place in November 2021, and after initial refinements, "we ironed out all the kinks by about August 2022," says John. "The last four or five call outs have worked just like we originally intended."
Each rescue marker's GPS coordinates are collated on a private Google map, which is available to responders. They in turn, can share their current location, to aid situational awareness for the Incident Management Team. There is a small area of no cellular coverage on the north side of Mauao, but LandSAR or Fire and Emergency NZ are able to drive up to the summit to set up portable VHF radio repeaters if they are needed.
John has been working to extend the system to the beach. "There's kilometres of great beach, with many beach access points. We have also added these to our response map. If a member of the public needs help, they've often struggled to explain exactly where they are. By referencing the council beach markers we can see the patient's location on our Google response map. Coordinating our team or St Johns on to that location becomes far easier."
Beyond Mauao, there are the usual surf lifeguarding duties and patrols, as well as SAR responses. "Sometimes people are reported as last seen on the beach, so we're tasked to deploy inflatable rescue boats or rescue water craft [Jet skis] to search the surf zone and coastline, whilst other lifeguards assist in searching the shore and nearby land area." As training coordinator, John is looking at ways to keep improving the capability for his club to assist in the area. "Other agencies are really excited about working with Surf to work and train together."
There aren't many locations where a Surf club has a land feature so close by with so many incidents to respond to, but John thinks the concept of rescue markers could have merit in other situations around the country. "We just needed to have the right conversations with the right people, and we got the system up and running. In essence it is really simple, and it has made a huge difference to the response speed and efficiency of the local SAR organisations, which can only be a good thing for those who need our help."
John's work on the Mauao marker project was formally recognised as Surf Life Saving NZ Eastern Region's "Innovation of the Year" in 2022.
This article was originally published in the December 2022 issue of Link Magazine.
Back to News